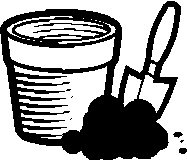 Having prepared a small area and covered it with fleece, I plant a vast variety of lettuces (currently 18) in March hopefully for a continuous supply until the frosts arrive in November. Once they are ready to crop they provide us with varied green salads throughout the summer. I plant them inside in square 5cm pots, a seed in each corner, or in home made cylinders made of rolled newspaper in which I plant 3 seeds spread out. The plants in paper pots have the advantage of less root disturbance because the whole thing goes in and breaks down, but the ordinary plant pot method works well if there is no time for making those out of newspaper.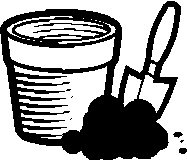 I transplant them under fleece or a cloche when they are large enough. I did this for the first time in order to try to beat the gastropods, and with success, but the first thing you learn is that all success is temporary. Now I have to clear the area of the little so and sos before I transplant and I protect the seedlings with plastic bottle cloches. Most times all the seeds come up in the pot but even two make a worthwhile station. No need to thin them because the plants grow away from each other. www.seedsfromfrance.com has five varieties which I grow successfully.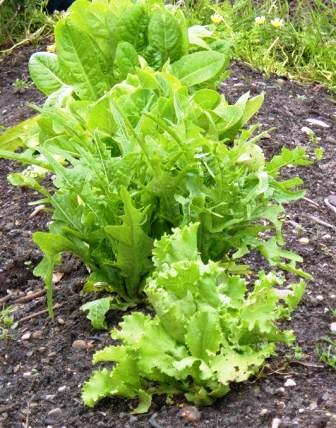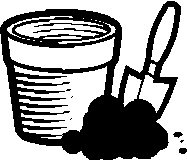 Incidentally, I no longer grow Lollo Rossa, I picked up Grenoble, which has a red tinted leaf, in Tarbes market ( strongly recommended if you are in the area) a couple of years ago when we were on holiday in the foothills of the Pyrenees. C'est magnifique. Of course if I say this to Sam, he just has to say "magnifique". I never discard any lettuce leaf which has been partially eaten as this will generally be on the outside and will provide the next meal for any returning gastropod which I may have missed when hunting the little blighters in the vicinity. When I pick the leaves I go for the available clean and uneaten ones working from the outside.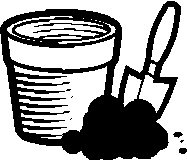 As usual I break all the rules by picking off the leaves once they are big enough. Successive sowings are necessary to replace those which bolt in the driest weather, but this is a rare occurrence. Pick and pick again works well as long as you don't mind gathering the leaves when you need them. A few years ago Eric said to me one evening: "Great idea of yours". "Which one?" I responded, thinking that there might be more than one. "Picking the lettuce leaves," he said. It transpired that when I told him about picking the leaves from Lollo Rossa he thought I meant to do this with all lettuces. The result is that since then neither of us allow lettuces to reach maturity but keep picking the outer leaves. It's just like those packets of leaves you buy in the supermarket except Eric and I haven't yet worked out how to squirt carbon dioxide on them. Oh, and another difference is they taste like lettuce.
Lettuce: Planting Guide


Sow:
March onwards
Depth:
1cm
Between Plants:
15cm
Between Rows:
15cm
Harvest:
when ready
Dig This:
pick and pick again
watch out for slugs
start off inside in pots
plant in succession
Good Companions
radish,cucumber,carrots
Dislike
?
Varieties I like
Red Grenoble, Ice Queen, Endive

Click Walter to contact me

















URL http://www.digmyplot.co.uk
©april 2007